I apologize for being a little late on this one, but the results from the top finishers are finally posted here!
First off I'd like to just say that I wish everyone could be a winner, but I had to pick the top 5 placers and this was a little more difficult than a fat loss competition.
You see, with a mass gain contest there are factors I have to take into consideration other than just scale weight and size.
I'm looking at who has put on noticeable size while keeping fat gain to a minimum, who has made noticeable development changes, and sometimes it's a mix of these factors with an increase in body fat levels that I have to look through.
So without further ado, here are the top 5 from Mass Monster…
1st Place Winner – M. Lopez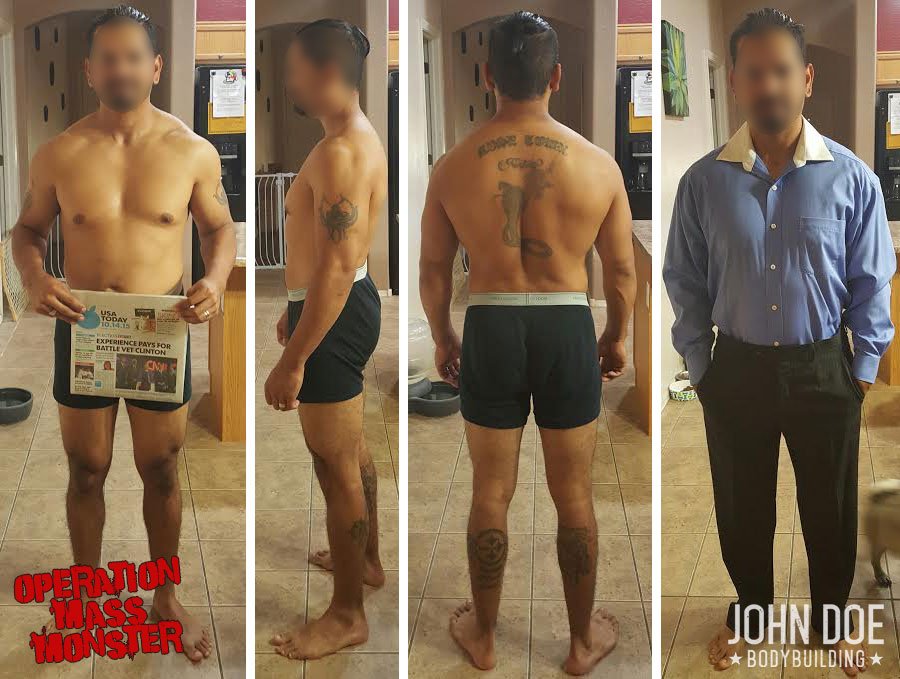 This guy made a pretty terrific transformation. He got up to 187 lbs and his deadlift shot up to over 450 lbs, along with increased arm and shoulder development.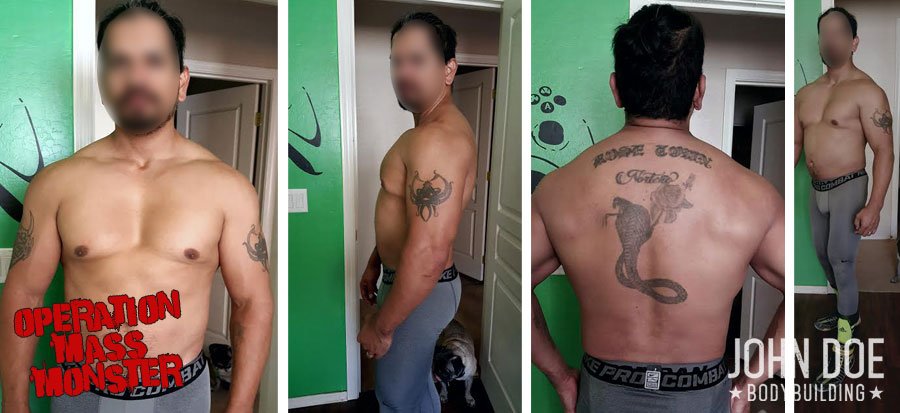 He grew everywhere and although not shredded down yet he made a mass gain of 11 lbs…….ALL NATURAL WITH HARDLY ANY SUPPLEMENTS.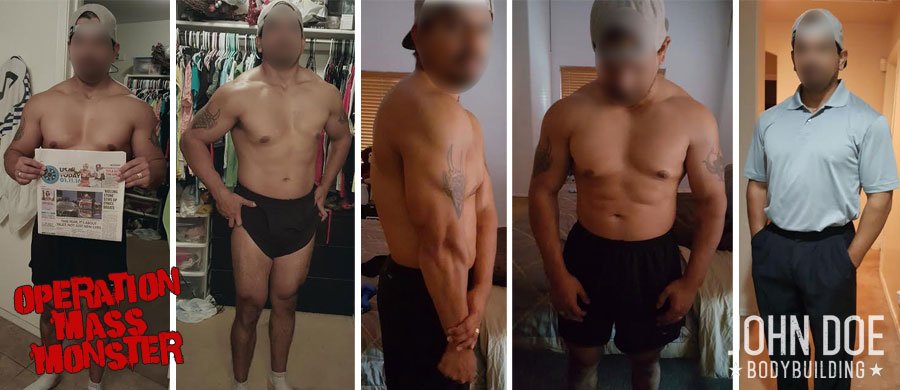 Hard work pays off!
"The results that I have gotten training with John these last 12 weeks are second to none. I have been training for over 3 years straight and have studied and trained many different styles and programs trying to figure out my body and what works best for me. What I liked about training with John is that he help me figure out what worked best for me diet, rest, and training wise. When I saw that John was holding this Operation Mass Monster Contest and saw that we got to train with him during this contest at a discounted price, I was like "hell yeah" I'm in! I was able to put on a solid 11lbs and go from 175 to 186lbs. The other thing that happened is that I actually look leaner now than when I started. Although I am bigger now than when I started I am also more defined. All this was done just following John's diet and training plan. Even if you only follow the principles you will see results"

"Hey coach John. Things are going good man. Can't complain. Seeing gains in size, weight is steady around 181 lbs – 184 lbs right now. I can tell that muscle fat is going and muscle is coming in. Difference in shoulder, chest, arms and quads. Shirts feel tighter, pant legs are fitting more snug….mid section actually going down in size, abs are showing more now than when I began. Definitely seeing more definition. I think the diet and the training split are benefiting me the most. I guess my body just needs more time to recover now. I guess hitting each muscle group once a week like the current split you have us on now is what my body seems to be responding well to. Strength gains are there as well. The weight I am using for the sets is steadily rising with each session."
2nd Place Winner – M. Medranno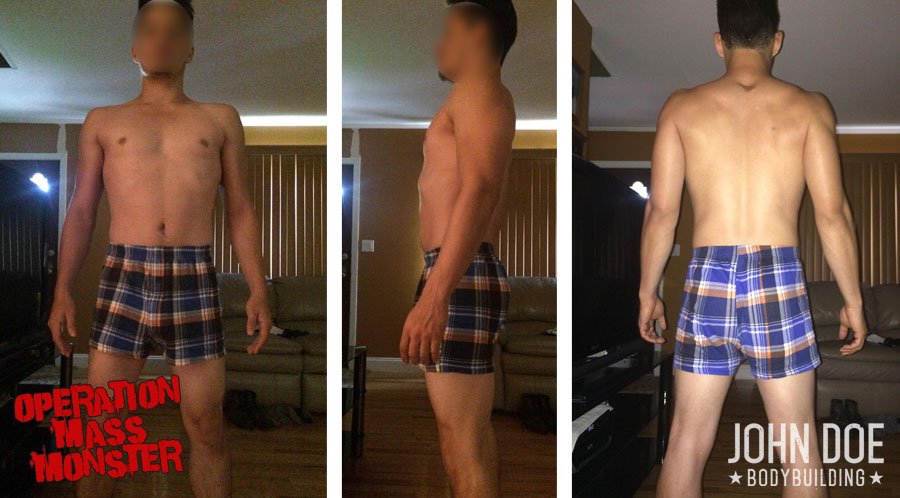 It was a close call between 1st and 2nd place, but this guy took 2nd because he gained a decent amount of mass but kept fat gain almost non-existent.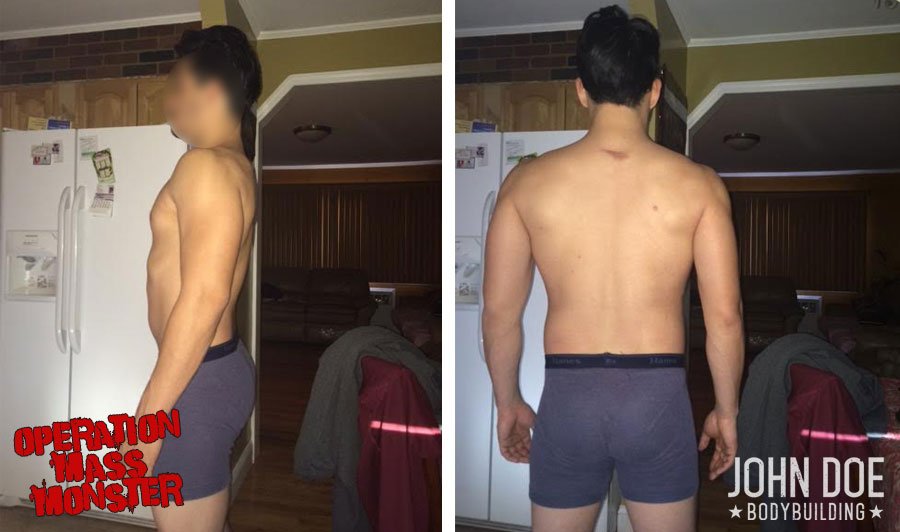 He had gained over a solid 10 lbs of muscle mass and he kept his gains ALL CLEAN. You can literally see him transform into a much larger individual in the short 12 weeks he trained under me for this competition!

I'm also pleased to announce that he took part in Project Shredded as well, prior to Mass Monster. This guy has made leaps and bounds in the past 6 months…ALL NATURAL
"All right. It's been a hell of a three months. Strength increase (the last week I gave it everything I had, almost dropped a 65 on my chest doing dumbbell chest press). Weight is up to 175. Only used the supplements you recommended me protein, BCAA and creatine for the last month. Thank you for the awesome training. Results like this alone would have taken me a long time just because of the diet tips and timing alone. I wish everyone luck but I dressed to win and trained to win so let's see what happens. Thanks again, John Doe. It was a dream that I wanted to accomplish. Been a skinny bean pole guy for as long as I can remember. I can't wait to see how the other guys did. I hope all is well."
3rd Place Winner – M. Driggants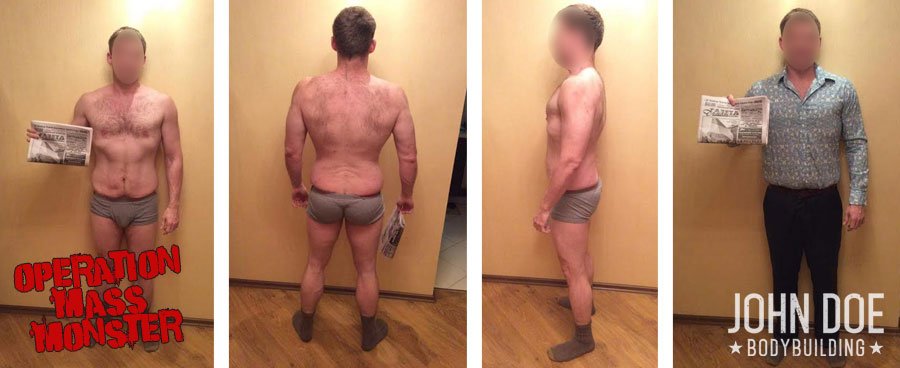 Okay, if this competition was based solely on mass gained and pounds packed on, this guy would clearly be the winner. He packed on around 40 lbs in 12 weeks.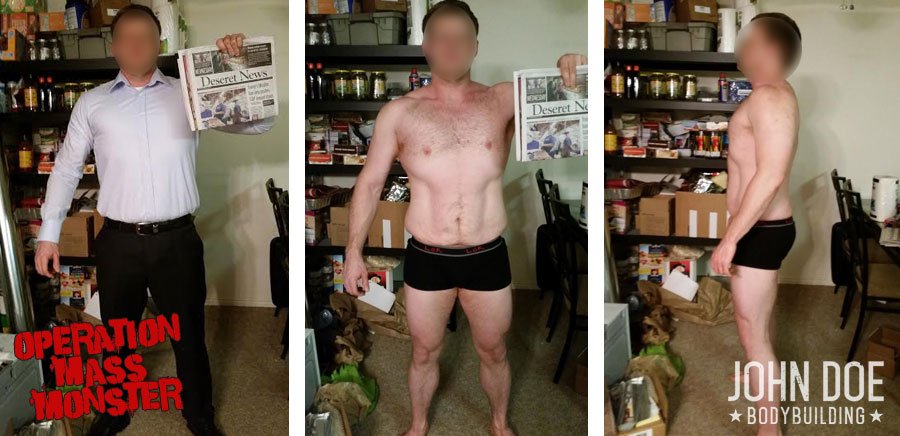 I'm also pleased to announce that Mike was a
finisher in Project Shredded
as well and decided to keep it going and enter the mass monster competition too.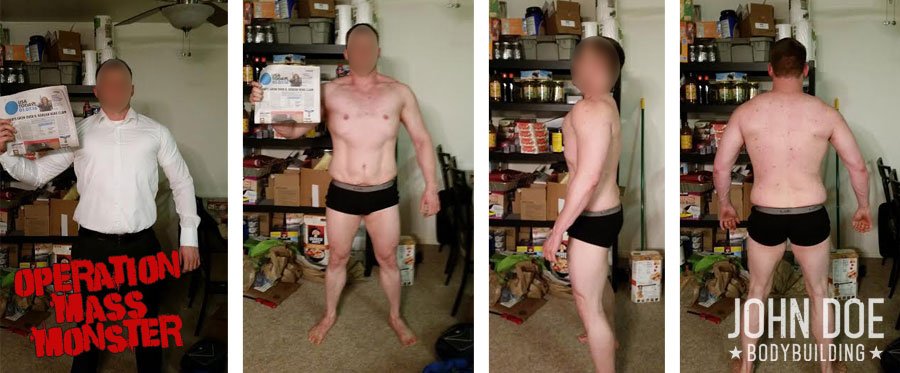 He started at around 200 lbs and when things were all said and done, he was around 240 lbs. During this time Mike got engaged and I think when we started working together last summer he was single.
The advantage he has here is when it comes time to start cutting up again he is going to be much larger and more defined than he was before. It gets better quality every time!
I think Mike has come a long ways and he's a great guy to work with. So 3rd place goes to him, keep training hard buddy, and when we switch gears we'll get you right by springtime! Nice work!
4th Place Winner – Ian M.

Ian took 4th place in the competition because he made steady progress and was heading in the right direction. You can read his short testimonial he sent on his last reply with final pics and how he says, "I don't notice much difference but family and friends do," and this is the case a lot of the time.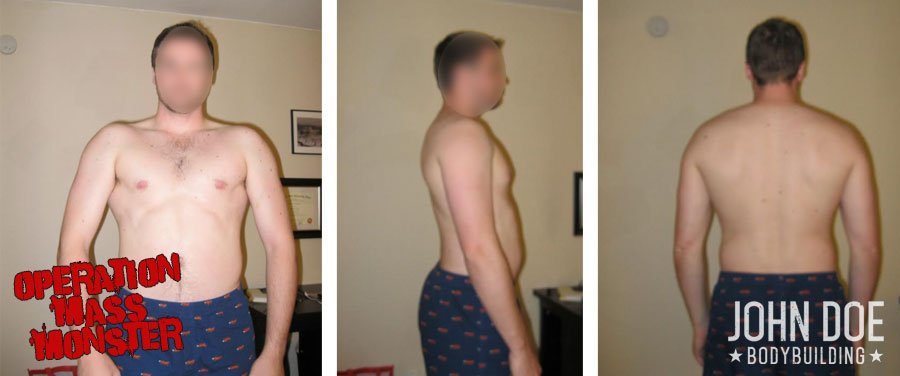 I'm glad to have had the pleasure to work with Ian and he's good enough for 4th place in this competition. I hope he continues to strive for more because he has a ton of potential.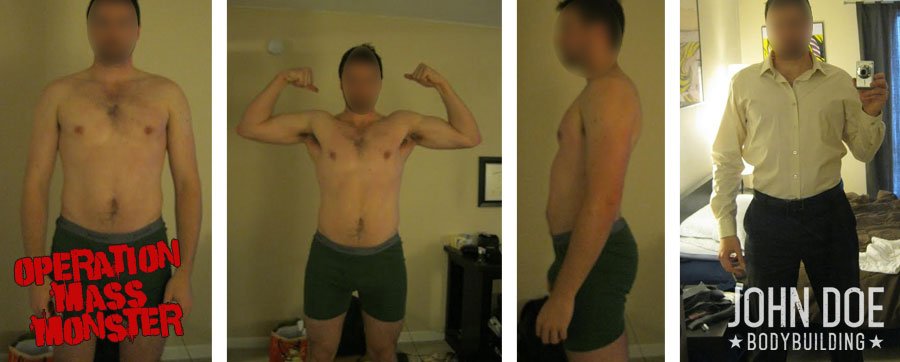 "Not convinced pics show much progress, but I've been told by family and close friends that I look healthier and better than I ever have. I'm seeing a couple chicks that have noticed the effort put in also. I'm happy I did this and am going to continue cutting fat for a bit."
5th Place Winner – David M.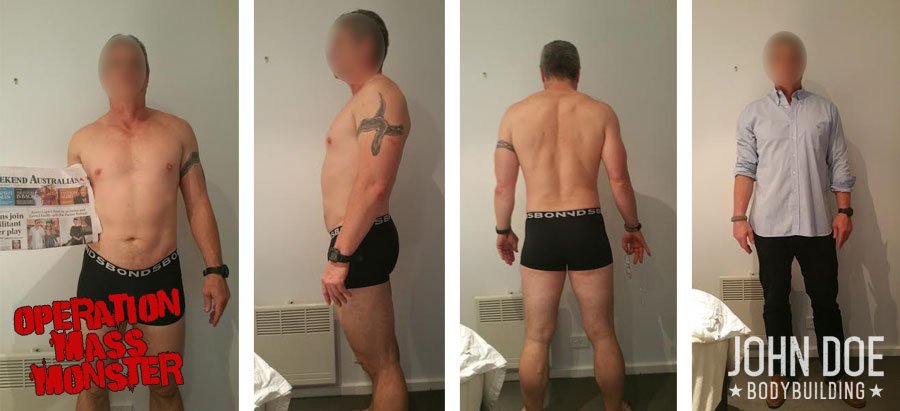 If this competition was about attitude and pulling yourself together, then David would be my winner.
You see, I deal with a lot of old soldiers and fitness is a way to help cope with past issues. David admitted to me that he was having issues coping with a few things before we started on this program, and during this online competition it was great to hear how he was getting things under control and making steps in the right direction!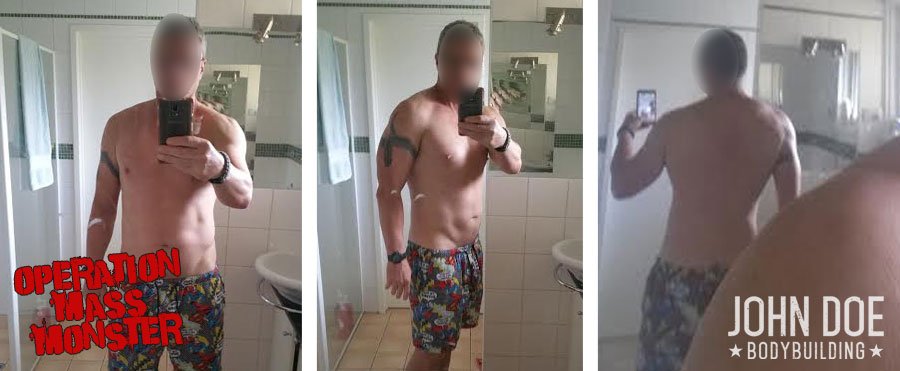 Hearing shit like this just motivates me. I love seeing guys rise up and conquer their demons. David made some progress and got a lot healthier overall.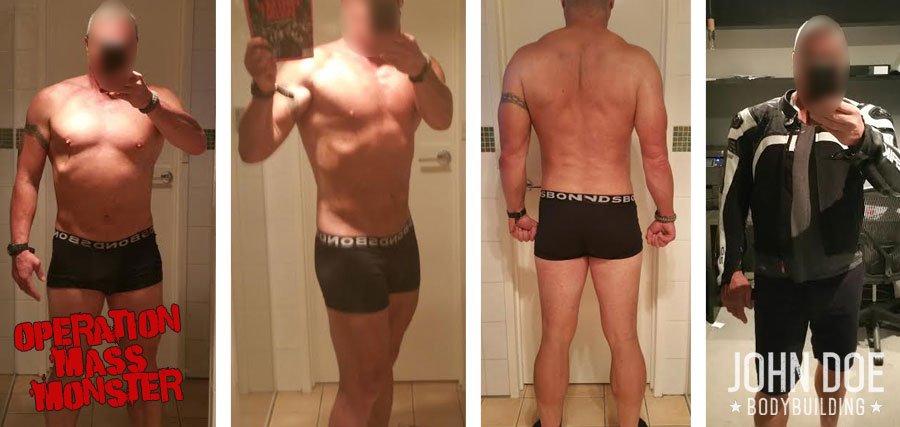 There is no greater reward to me than helping someone out in life. Congrats on placing in the competition David, and I hope you keep winning one day at a time! It was a pleasure working with you.
"Sorry, first few weeks back at work after 5 months off due to PTSD like issues. As I said you've helped enormously. I obviously liked your post about the guys of the shredded comp. Here are my photos, and man i am a fat old guy! The camera has such an annoying way of showing you what you really look like, as opposed the rose colored image in the gym mirror and my wife's sweet encouragement of my progress. But now I've got a clear goal. H hour, crossing starting line into enemy territory, Boss!"

"Hey John good to hear from you. A lot to catch up on but my training's going well, largely thanks to you. I have got so much from your 'no BS' advice, so thanks brother.
One thing that i really liked is your recipe for home made protein shakes. I have also benefited from lifting less weight and focusing on the muscle. Some of the other stuff too. I'm 108 kg now (240 lbs?) 12-13%, but at 6'2″ and with naturally big legs, my chest and upper arms are still relatively poor, e.g. my calves are about 18″ but upper arm only 16.5″. My chest also lacks definition, so I think I'm going to have get bigger before i can successful cut back to a worthwhile shape. In the past few months I've gained about 10 kg muscle but I think I'll still need another 10 kgs before I start cutting back. I've been following your diet and think I can probably keep gaining (although progress is slowing) until January. I look forward to more tips from you, and seeing just how much i can improve, particularly my chest and arms. Thanks again brother, Dave."
A big thanks to everyone who competed and I'm proud of all of you who stuck to it no matter what!
I placed second to last place in my first bodybuilding competition ever, and a photo I used to laugh at eventually became one of my favorites because I could see how much progress I've made.
There have probably been a couple photos from the competitors that I have left out or misplaced and any photos missing are 100% my fault. Everyone who placed in this top 5 followed the rules and submitted the required photos.
A big thanks to Strong Supplements for sponsoring yet another online competition and furnishing prizes to the winners.
Also, a big thanks to everyone and anyone who has followed the site, watched the videos, and has possibly taken anything away from the words I write!
Train hard!
– JD