Trenbolone acetate (Tren Ace) is the absolute most bang for your buck you will find in the world of steroids.
There is no water retention, it doesn't convert to estrogen, and it has cortisol lowering effects to it (which can definitely help with fat loss and growth, since cortisol is the enemy).
Trenbolone (aka Trienolone or Trienbolone) is a hormone that started out for cattle to increase mass in a very short time frame before they went to the slaughter house (given to them about 60 days prior to slaughter).
So you can imagine this is pretty powerful stuff right here.
Although I no longer use Tren, I must say that if I was going to prepare for another bodybuilding event I'd use it again.
[Disclaimer: John Doe Bodybuilding is not advising anyone use ANY illegal or possibly dangerous hormones or substances under any circumstances UNLESS it is under a doctor's strict supervision.]
Finaplix: Before there was Trenbolone
Tren was pretty much unheard of until the mid-late 90's.
Guys used to make homemade Trenbolone.
They'd use these cattle implants and heat them up in a spoon over an open flame, draw the shit right up into a needle and inject it.
I've even heard of morons who used a cattle implant gun and shot them into their asses back in the day. Then came the fina conversion kits.
Someone figured out that you can dilute the pellets down with benzyl alcohol and benzyl benzoate, run the solution through a coffee filter or syringe filter, throw it in a vial, and wallah you had homemade Trenbolone.
It was called Finaplix and it worked extremely fucking well!
I used to do these conversions all the time [allegedly]. Finaplix was cheap and easy and I always got great results from Fina.
I never see this around anymore, I don't even know if they still sell the implants. The last time I looked I had trouble locating them.
Trenbolone Acetate vs Trenbolone Enanthate
Back when I was using Tren I preferred Trenbolone acetate over Trenbolone Enanthate. I've gotten reports from many guys who also prefer Tren Ace versus Tren E.
The biggest reason I preferred Tren acetate was simple… it seemed more manageable and I didn't feel as bad on it.
Trenbolone can often make you feel ill. It's probably the most popular steroid today because it's truly the most bang for your buck. But it doesn't come without side effects.
Night sweats, decreased cardio ability, irritability, and major stress on the body are just some of the side effects of Trenbolone. But one thing is for certain…the shit definitely works and is rarely faked!
Trenbolone Acetate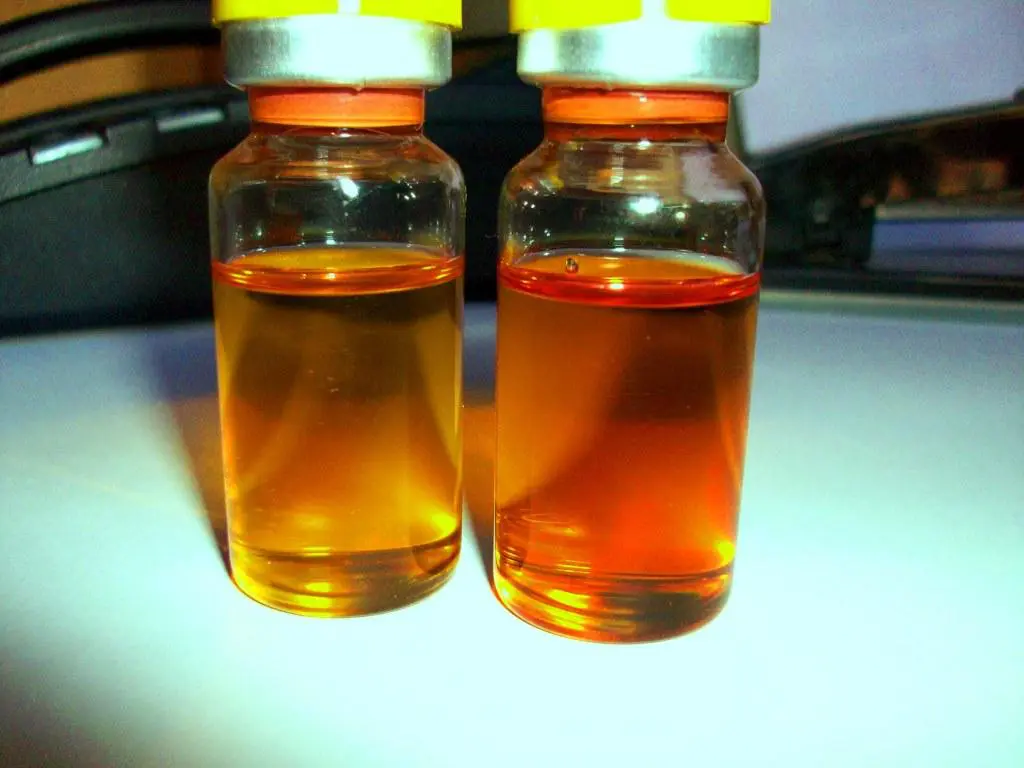 The best steroid bang for your buck?
Trenbolone acetate vs Trenbolone Enanthate would be the same thing as comparing testosterone prop (a short ester) to testosterone enanthate (a longer acting ester).
You can get by with injecting Trenbolone Enanthate once every 5-7 days, where Trenbolone acetate at minimum needs to be shot on Mon/Wed/Fri, but most go at least every other day with it.
The biggest reason I could see Trenbolone Acetate being superior to Trenbolone Enanthate is that more of the ester begins unraveling before it's reintroduced again. Tren E just felt like it sat there and the side effects seemed worse to me.
With any faster ester you're going to get more of the total mg's absorbed by the body, since it doesn't take as long to break down and more of the hormone gets absorbed before the de-esterification process.
So to put it short and sweet, Trenbolone Acetate versus Trenbolone Enanthate? I'd go Tren Acetate every time! Take it from someone who has been there and done it.
Trenbolone side effects
Tren makes you aggressive, and I don't give a shit who say's what to defend it.
Tren makes you edgy, period. I'm not saying it's something you can't control, but it was there for me every time I had ever used it.
Out of anything I have ever used (which is pretty much 80% of steroids readily available to bodybuilders) Tren made me the edgiest. HOWEVER, it also helped me look my best.
Tren is harsh on the body, harsh on the prostate, harsh on the lungs, and harsh on your sleep, but there is no other product (in my honest opinion) that does what Tren does, and does it as cheaply.
Cardio function can also be slightly impacted as breathing seems a little shallower when taking Tren, but this was nothing that kept me from doing cardio or having decent workouts. Maybe I noticed it a little bit, but it was really nothing.
But then again, I never abused this stuff and I stuck to mostly 300 mg/week dosing.
Some users may experience a "Tren cough" where you experience uncontrollable coughing for a few minutes post injection, but this is a very small percentage of people using Tren.
Trenbolone Acetate Dosage: How much Tren Ace should you use?
I have went as high as 600 mg/week before, and I will tell you that side effects became much worse with no added benefit for me.
I'd stick to 300 mg/week.
Most of your Tren is going to either be 75 mg/ml or come as 100 mg/ml.
Therefore you will be using 3 cc's/week and each vial will get you 3.3 weeks.
Watch out for Tren cough!
Trenbolone Acetate Injection Schedule
I used to inject Tren on a Mon/Wed/Fri schedule.
Every place you read wants to tell you to use it every day, but I had zero issues with sticking to a 3 times/week injection pattern with Tren.
Trenbolone Cycle
You want to use Tren around 6-8 weeks per cycle, so you're going to need 2 vials of it, possibly 3.
Tren is not to be used alone, as the side effects are undesirable enough with testosterone, without test and it'd be a nightmare.
I could see severe depression being a big side of Tren with no test in the mix.
At this point my cycles are pretty much limited to Primobolan, Masteron, Test, Deca, EQ, Anavar.
But does 500 mg/week of Primobolan outperform 500 mg/week of Tren? Fuck no, but it costs 5 times more money than Tren.
I'd be willing to bet that about 90% of bodybuilding competitors who use steroids in this day have Tren somewhere in their pre-contest cycle.
You just cannot find anything more cost efficient than does what Tren does.
Trenbolone Cycle Results
One cycle I ran for a competition that stands out to me was 300 mg/week Tren, 300 mg/week test prop, and 300 mg/week oil based Winstrol for 8 weeks.
I looked absolutely SICK from that cycle! I was harder than nails, vascular as hell, and pumped looking.
That cycle was probably half of the amount of gear I would normally use for a competition, and I looked worlds apart from previous contest prep!
Why don't I use Tren anymore you may ask? Well, not trying to sound like an old man here, but it's just too harsh on my body now.
I don't handle the Trenbolone side effects as well anymore, and my goals are a little different than what they used to be.
I'm still tempted to want to use Tren again, because I know what it does for my physique.
If I compete again I'm not going to lie, I'd use it.
Trenbolone is that powerful and it just gets results.
Tren Ace is also 100% illegal so you should also check out the Best LEGAL Alternative to Steroids.
Over and out!
– John