Most people I talk to get excited about a new program and diet.
They seem ALL-IN for the first couple weeks.
Then, as soon as they realize that shit gets hard and they have to eat the same foods over and over again THEY FUCKING QUIT!
For some, the process is just too much to add to their life at this given point in time.
For others, well they're just pussies and that's all I can say about it!
So I'm not gonna lie; the stuff I talk about is difficult.
I'm not here to tell you that you can "continuously get leaner eating whatever you want" or some other type of marketing nonsense that everyone preaches nowadays…
IT'S ONE GIANT PACK OF LIES!
YOU CANNOT GET LEANER EATING WHATEVER YOU WANT
GOOD SLEEP GETS HARDER THE LEANER YOU GET
ONCE YOU'RE SHREDDED YOU'RE A LITTLE MISERABLE AT TIMES
YOU CANNOT KEEP THIS LOW LEVEL OF BODY-FAT ALL YEAR IN A HEALTHY WAY
The things I speak about are the truth, period.
I'm not going to tell you that everyone can do it and I'm not going to tell you that it's necessarily the right thing for you to do.
HOWEVER…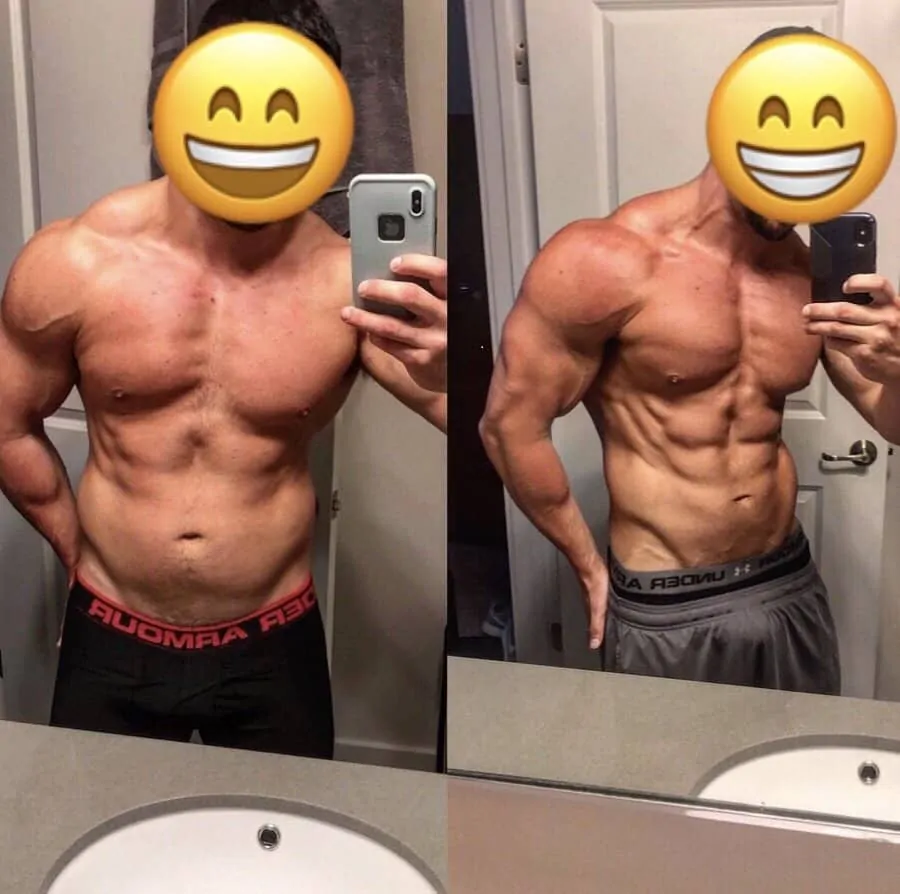 Yes, his face is covered up due to client privacy, but as you can tell this is the same person.
This was accomplished in just 10 weeks, 10 WEEKS OF HELL!
This client still has 2 weeks to go until competition time!
Looks good right?
He's the perfect example of a CLASSIC PHYSIQUE.
The bottom line is I'm out to teach you how to seek and destroy.
I don't candy-coat this shit and tell everyone they can do it. I tell people exactly the opposite; you're probably not going to do it!
But this is what can happen if you follow everything I talk about.
You can actually look like a different person in a few months of dues paid!
The guy in the above photo is tired, hungry, irritable.
But he continues to make the time to spend with his wife and child, balance his career with the gym, and he's closed on 2 houses during this transformation time.
He's a fucking winner who continues to SLAY THE DAY!
He doesn't miss meals and he doesn't make excuses!
Shredded Ops is literally about the true strength of pushing yourself back up and pulling yourself up while combining heavier resistance sets with the workouts.
I break through all of the barriers and stupid little rules that modern day bodybuilding has come up with!
This will be one of the most difficult routines you've ever done.
As the program goes on you will become mentally stronger yet fatigued at the same time.
Shredded Ops was developed with one thing in mind; FORGING WARRIORS IN THE GYM!
I appreciate this training client taking the time to send me this transformation photo and I hope he kicks ass in a couple weeks!
TRAIN HARD! – JD
PS – You can buy Shredded Ops right here.