One thing that is statistically proven throughout the past several decades is the steady decline in the testosterone levels of men.
Men are becoming bitches and I've even seen many women actually out-lifting men in gyms lately.
How sad is that shit?
What is the world coming to when someone with a small fraction of the testosterone a male is supposed to have can walk into a gym and make a man look like a bitch?
Pretty fucking sad!
But let's take a look at the examples we have to look up to now; soy filled, bitch-made little boys who couldn't build muscle if their lives depended on it!
Steroids you say?
Not everyone wants to take steroids nor should they. Steroids aren't for everybody and I think many people disregard just HOW DAMN GOOD THEY CAN ACTUALLY LOOK WITHOUT USING STEROIDS!
There are ways to improve performance and build quality size without using anabolic steroids, but NONE OF THOSE WAYS ARE GOING TO BE AS EFFECTIVE AS GETTING YOUR BODY INTO A MORE ANABOLIC ENVIRONMENT THROUGH BOOSTING TESTOSTERONE!
Testosterone is what makes a man a man.
It's what made Steve Reeves have those wide shoulders, narrow waist, and chiseled and masculine facial features.
The lack of testosterone is what gives men soy boy facial features!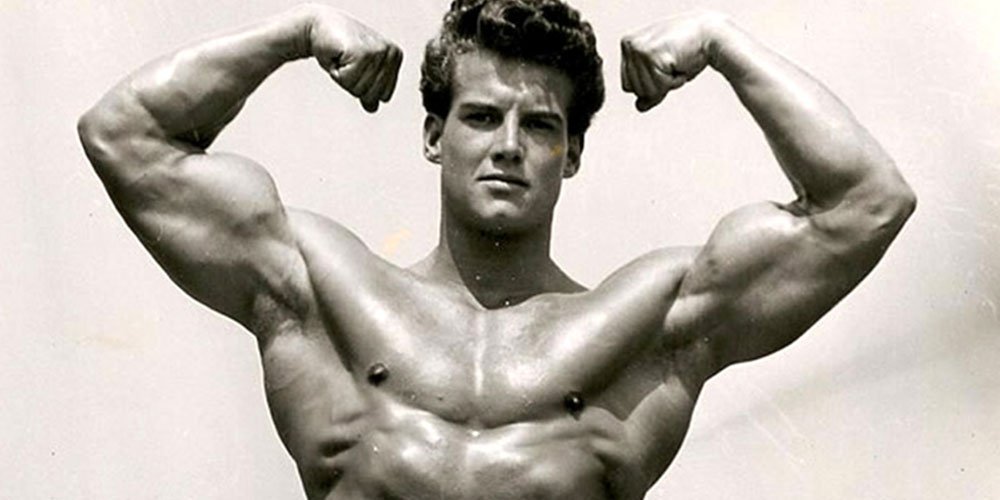 (Steve Reeves)
No offense to anyone with a nice beard, but those beards are a way for SOME GUYS to hide the fact that their faces resemble bitches!
They're a fantastic way to hide weak jawlines and soy boy faces!
HOW DO I GET MY BODY TO PRODUCE MORE TESTOSTERONE?
For starters, you get off your lazy ass and lift weights and do cardio!
Secondly, you stop eating bullshit and start eating quality foods that PROMOTE GROWTH!
Finally, once you get to working out and eating good foods down, you run the most effective natural muscle building stack possible…the RED MASS MUSCLE STACK!
THE RED MASS MUSCLE STACK IS THE EXACT 1-2 PUNCH YOUR BODY WILL USE TO PRODUCE INSANE AMOUNTS OF YOUR OWN TESTOSTERONE FOR MORE MUSCLE MASS AND QUALITY MUSCLE MASS!
The Red Mass Muscle Stack is a 16 week blast.
What you will need:
Weeks 1-4
3 capsules a day of Red Growth, 4 capsules/day of Red Beast
You will be combining Red Growth and Red Beast together to kick-start this cycle.
Red Growth will be used for it's ability to promote fast testosterone production as a catalyst compound.
This product up-regulates testosterone production along with being an androgen precursor that promotes a harder look.
Red Growth is what you'll use the initial 4 weeks on cycle to kick-start hormone production while allowing Red Beast to star working to PRODUCE EVEN MORE TESTOSTERONE by further stimulating LH and FSH levels (leutinizing hormone and follicle stimulating hormone).
By the time the kick-start is over with you will start to becoming a testosterone flooded machine!
It's right at this 4-5 week marker where you're going to be like "HOLY SHIT, SOMETHING IS UP AND I'M GETTING BIGGER WEEK BY WEEK!"
Weeks 5-12
4 capsules/day of Red Beast
You will continue on with Red Beast to stimulate the most amount of total testosterone and free testosterone possible.
Red Beast will unbind testosterone so you'll have more readily available test to utilize!
This is where the true 1-2 punch comes into the picture…the first 4 weeks of the cycle are designed for that shotgun blast stimulation, now the remaining 8 weeks are intended smooth and steady gains week to week.
Your mood should feel elevated, your sex drive will be ridiculous, and your strength will increase dramatically!
You know your testosterone levels are higher when you start having that crazy sense of well-being.
It's like this feeling where things that seemed like problems in the past just don't seem to matter anymore.
Having a high level of testosterone is this feeling of not giving a fuck about anything, feeling like nobody is a threat to you, and going after what you want like a damn alpha wolf!
SOMETIMES YOU DON'T REALIZE HOW HALF-EMPTY THE GLASS REALLY IS UNTIL YOU EXPERIENCE HIGHER TESTOSTERONE LEVELS!
Weeks 13-16:
RED-PCT 2.0 is used to keep estrogen levels diminished.
Red-Growth and Red-Beast do not aromatize, however sometimes higher testosterone levels that begin to fall off can cause the unwanted effect of estrogen wanting to rebound.
We want to keep these estrogen levels down.
So indirectly, returning to normal after being in such a high testosterone state warrants the use of a proper post cycle product that is designed to keep your testosterone and estrogen in a properly balanced ratio.
Think of RED-PCT 2.0 as a way to slowly return to normal rather than just feeling like you've crashed and burned!
THERE IS MORE THAN ONE WAY TO SKIN A CAT!
I feel like this stack is the strongest thing you could do aside from using anabolic steroids.
This is the next best thing to a steroid cycle that is promoted from natural means.
You see, there are many different prohormones out there that are really no safer than some steroids (and in some cases ARE DESIGNER STEROIDS THAT ARE MORE HARMFUL!)
The Red Mass Muscle Stack is a way to stimulate maximum testosterone production without the negative side effects!
Like I said before, steroids are not for everybody and some guys are looking for that edge without the steep drop-off that can come from steroid cycling.
If you're looking to gain some solid muscle mass and feel fantastic then use the Red Mass Muscle Stack!
It's not exactly steroids, but it's as effective as you're going to get next to using steroids!
TRAIN HARD! -JD
PS – THE ALL NEW SHREDDED OPS EBOOK DROPS JANUARY 1ST!